Presenting your property in the best possible light is the key to sell your house quicker.
What is it that makes people fall in love with a house? Usually that happens if they can see themselves living in it. Why is this so important? Because if buyers fall in love with your house they are more likely to buy it; meaning you will sell your house quicker.
Basically, you are not just selling a house; you are selling a live style. So, you have to give your house this tidy, clean, comfy, warm, secure feeling of HOME. A place where people can see themselves living in it: cooking, relaxing, having guests…etc.
You can do this easier than you think with a thing called staging. Decluttering, rearranging some furniture, some new paint here and there and just a few – well selected – decoration items already make a huge difference.
You don't know where to start or you need some inspiration? Usually making some image search in Google with the keyword "home staging" brings up many ideas. If you are looking for some decoration, www.wall-art.com is a good place to start
Here is one example how home staging could look like: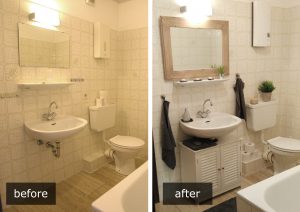 In this project we simply added a small furniture under the sink, made a frame around the mirror and added some decoration (towels, candles, soap…).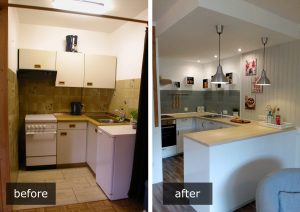 Sometimes a larger intervention – like a new kitchen and a new ceiling with spot lights – will make a huge difference.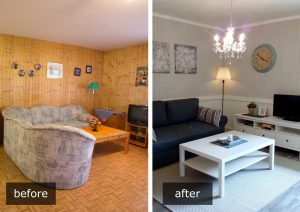 Heavy looking wood panelling was painted for a fresher, lighter look. It may be worth it to replace bulky outdated furniture.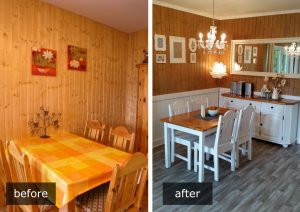 You don't need to throw everything away: some of the old furniture can be upcycled.
Please see further tips and tricks on how to sell your house quicker in our blog post "How to sell your house faster: Tips & Tricks to impress possible buyers