5 tips to keep your real estate business healthy
We have seen a sudden but shockingly high decline in interest for real estate in the COVID-19 affected areas. This truly is a big concern for everybody that works with real estate. It's totally understandable as people have other things on their mind than to buy a new house. Let's see what you can do to keep your real estate business healthy.
The arrival of the coronavirus has been unexpected, both in terms of speed and extend of damage that it could impose on the industry if not managed quickly.
So far, we don't know for how long this situation will go on or worst – we may not know how our business can survive this time. Most likely the interest in properties will come back but at the same time we don't want to sit on our hands waiting for this to happen. So here are a few tips on damage control for your business or – to give it a more positive twist – improving your real estate business in a way that will make it more flexible in the future.
Tip # 1 – Carefully plan your new strategy
First and foremost – like with every advice given regarding the coronavirus lately – stay calm. This is true for your new business strategy as well. Make yourself a coffee sit down and think about new ways your business can operate. Maybe make a little brainstorm with your staff via video conference.
Keep in mind to put yourself into the shoes of your customers. They are told to have as little physical contact as possible and only to leave the house if totally necessary. A trip to a real estate agent might not be on their list of priorities right now. At the same time, they may have lots of time at home, being bored and surfing the net. If they would have the possibility to go to some virtual house viewings it's probably great fun for them.  Who knows if they not fall in love with one of your houses they otherwise never would have seen?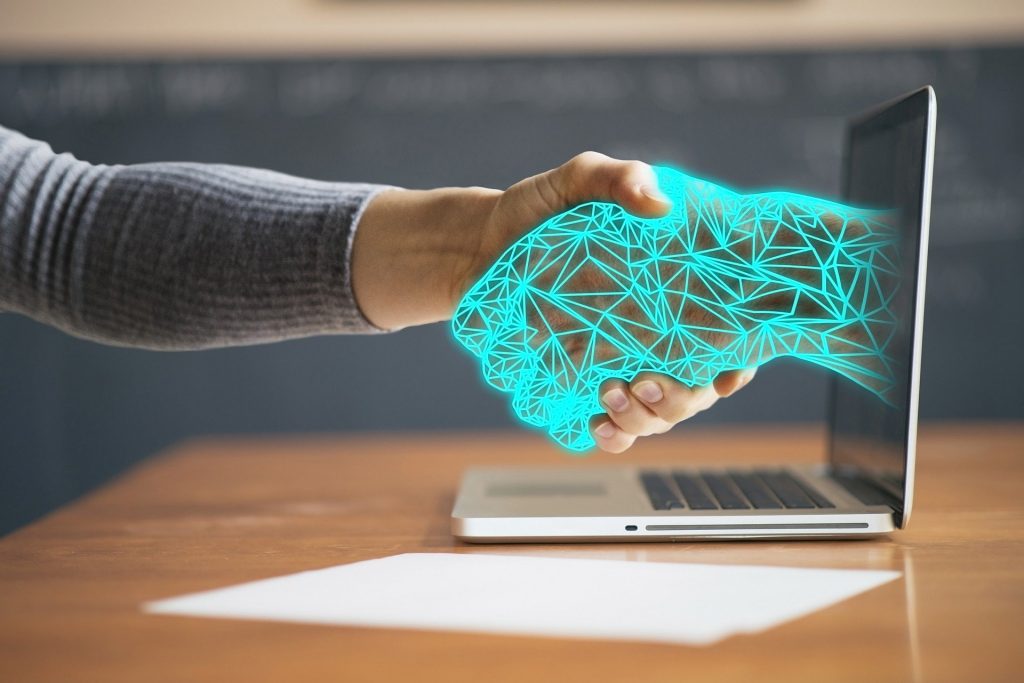 Tip # 2 – Less personal and more virtual
This is definitely the new way for many businesses. If you think you still need to improve in that regard, this is the time to do it. So far, many really appreciated the personal contact real estate agents offer – they could discuss their needs and preferences. Only because you should avoid direct contact doesn't mean you can't still offer a great service to your clients. It only means that the way on how to do it changes. You can still be there for them – although not in person – and keep them engaged. For example contact via phone and internet.
Find a way for your employees to work from home. Strange as it may be in the beginning, once everybody is used to it you will recognize its many advantages.
This new technology already exists and right now we can see the big advantages it gives in a time like this.
Tip # 3 – Work on your online presence and social media
If you have no website, get one. If it is 20 years old, get a new one. Also, get active in social media. See what people – your possible customers – are concerned about and give them a solution. If they like it they will share it with others giving you marketing for free. Word of "mouth" – although virtual – is a great tool that should not be underestimated. It might even spread to locations you previously had no clients giving you a broader audience.
There are also many real estate portals where you can list your property ads for free giving you some extra exposure.
Tip # 4 – Staying positive, flexible and creative
Unusual circumstances call for unusual solutions. This is your chance to come up with something truly unique and creative. Good ideas you implement and share will spread and get your business back on your feet in no time. As long as you stay positive and motivated there are many ways you can explore. Please keep in mind to share your optimism with your staff as well, they contribute a big deal to your business and are a valuable asset. Give them room to be creative as well.
Tip # 5 – Getting help from the government
Last but not least, getting some help is no sign of weakness. Don't feel too proud to accept it. You don't need to feel ashamed to apply for the help your government offers for affected businesses. Every country may handle this in a different way and it is a great thing that they are helping the local companies. Always remember, to be in financial difficulties because of the COVID-19 is not your fault. If someone lends a helping hand to support you, you take it.
Those 5 measures are a big step in the right direction to keep your real estate business healthy. We all understate the significance of planning to deal with emergencies.
If not already done so, prepare yourself for future emergencies. Don't forget to set up your business continuity plan – a file that identifies possible dangers/emergencies that can arise in your location, ways to reduce risks, and ensures the least amount of interruption to your business during such an emergency. The business continuity plan should assist you to set up the resources and information needed to deal successfully with a future crisis.
Of course, you hope you'll never need to use it, but you'll be happy to have it should disaster strike.
Keep your real estate business healthy and your staff safe, plan ahead
Keeping your real estate business healthy in all sorts of circumstances will be essential and it's always best to be prepared.